The affairs of the York Condominium Corporation No. 8 are managed by a Board of Directors, comprised of seven (7) officers that are elected by all owners not in arrears of the corporation. They are elected at the AGM and serve a three years term. Executive officers are selected by the Board to assume responsibility for different aspects of the organization and affairs of the corporation.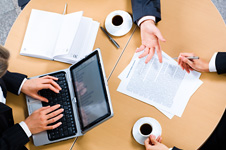 Sean Singh - President
Yogesh Patel - Vice President
Desnee Sinclair - Secretary
Lalta Ganesh - Treasurer
Olucemi Ajayi - Director
Dhirajlal Vegda - Director
Bhavin Shah - Director
According to the Condominium Act, 1998:
1) Every director and every officer of a corporation in exercising the powers and discharging the duties of office shall,
(a) act honestly and in good faith; and
(b) exercise the care, diligence and skill that a reasonably prudent person would exercise in comparable circumstances.
2) Vacancy - If a vacancy arises in the board, the remaining directors may exercise all the powers of the board as long as a quorum of the board remains in office.
The majority of the remaining members of board may appoint any person qualified to be a member of the board to fill the vacancy until the next annual general meeting.